Intel works smart glasses called Vaunt which look like normal glasses and have a weight of only 50 gramm, as reported by The Verge.  All electronics including battery are within the glasses iron. In comparison to Google glass the Vaunt projects its information directly on the human retina which prohibits that other people can see whether the person wearing the glasses receives currently information or not.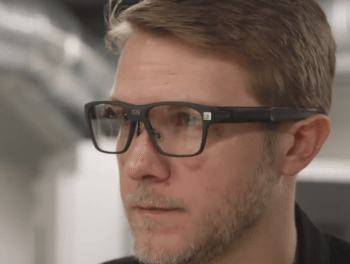 The Vaunt glasses project a monochrome image which enhances readability. For a crystal clear image the distance between the glasses and the eye must be constant. But then the projected information remains clear, even when you are short sighted. The image is projected via a laser diode (VCSEL, Vertical-Cavity Surface-Emitting Laser).
Next to this the Vaunt holds a gyro sensor which recognized head movements. So you can e.g. read a new message with head movement to the right and delete it with a head movement to the left.
The glasses are developed by a from Intel especially founded department called "new devices group". Later in 2018 Intel wants to open access on the development environment and on prototypes so that programmers can get a first impression on the glasses functionality. Vaunt is based on a smart phone with iOS or Android which delivers data. A proper App will be soon published by Intel.
Competitor Google glass disappeared since 2014 for some years, however, in July 2017 they announced that they are currently working on a version of Google glass for industry.